Mathnasium leaders: want to get your first month of live answering services for free?
To celebrate Mathnasium's first virtual convention, we're offering new customers from Mathnasium a free month of service.
You'll also get appointment booking, bilingual call answering, teleconferencing and collaboration software. These added-value solutions come with all packages at no additional charge.
Every plan also comes with access to an optional business line, available for a small additional charge. This lets you use your smartphone as your business phone, with a separate business line for all customer enquiries.
As an added bonus exclusive to the convention, you could win up to $1,000 of service FREE! Find out more below.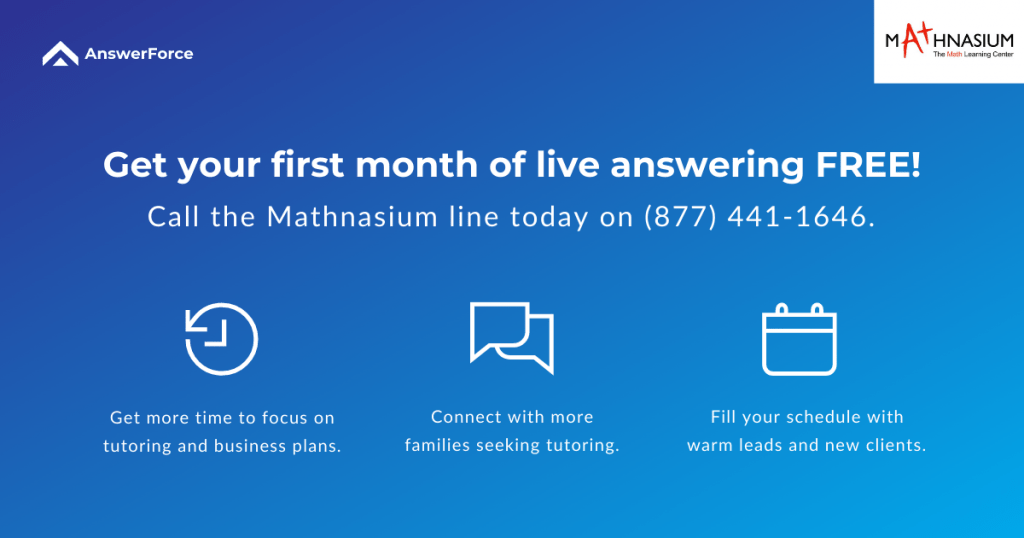 Mathnasium convention prize draw: your chance to win!
There's never been a better time for Mathnasium franchise owners to partner with AnswerForce. In these most challenging times, your success matters more than ever. The partnership enables Mathnasium franchise-level success in a multitude of ways, from new student lead capture, to appointment booking, overflow call support, and more. The solution even integrates with Radius.
Why not try it out? Until July 24, all new and existing customers will be entered into a prize draw to win:
$1,000 of AnswerForce credit (1 winner)
$500 of AnswerForce credit (2 winners)
$250 of AnswerForce credit (4 winners)
$100 of AnswerForce credit (10 winners)
$50 of AnswerForce credit (20 winners)
The competition is open to all registered Mathnasium accounts. Even better, for every new Mathnasium customer you refer to us, you'll get an additional entry into the prize draw. Please ask the person you're referring to let us know when signing up. Good luck!

Competition rules: Offer ends July 24, 2020. If you've been referred by another Mathnasium leader, please let us know when signing up. You can sign up here. Alternatively, you can call (877) 441-1646 in the US or Canada, or call 0800 011 9020 in the UK. An equivalent prize value will be applied to accounts held by prize winners who operate outside the US.
Existing customers will automatically be entered into the draw, scheduled to take place on Thursday, August 5, 2020. To be eligible, the customer account must be activated, with at least one call forwarded to AnswerForce by Friday, July 31, 2020. Maximum of one prize per person. Winners will be notified via email. No cash alternative.
Want to learn more about AnswerForce + Mathnasium?
We'd be delighted to help. Please click through for more information:
Mathnasium + AnswerForce overview (link)
Mathnasium + AnswerForce case study (link)
Mathnasium + AnswerForce pricing and plans (link)