When you're running a business, time is precious. Working on repetitive admin tasks means less time for business growth.
But if you like the idea of automating certain tasks — such as email blasts, notifications or data entry — Zapier can help.
Better still, using the AnswerForce integration options on Zapier makes it even easier for you to look after customers, follow up on leads, and provide world-class service.
Here's how it works: you get a team of virtual receptionists to help answer calls, 24/7, for your business. Then, by using Zapier to set up zaps, or automated actions, you can easily flow valuable call data into your preferred platforms. Call data arrives within seconds of every call. You can then begin working the data as warm leads, or using it to provide tailored customer support, depending on the call nature.
Zapier offers hundreds of software solutions that integrate easily with AnswerForce, from Slack, to HubSpot, to Mailchimp.
Are you looking to save time? Lower your administrative costs? Whatever your motivation, finding us on the Zapier platform could help your business in many ways.
Read on to discover how you can set up AnswerForce zaps to streamline data entry in:
Google Sheets: get insights into customer service levels through helpful spreadsheets
Autotask: process IT tickets as soon as customers report an issue
Slack: collaborate with your team based on incoming call data
Trello: manage projects by assigning customer tasks
How does the AnswerForce-Zapier integration work?
Most of us use many different desktop apps during a working day. Sending emails from one, writing notes in another, uploading to the cloud, recording progress in a task management system.
Zapier connects more than 3,000 of these apps so that they can share data. It then automates information exchange between them, via workflows called 'zaps'.
An automated task is one that doesn't need to be handled by a person and means the repetitive tasks of daily business are done instantly. Accessible to everyone, these 'zaps' free up valuable time to focus on the more important duties of the day.
There are thousands of 'zaps' to choose which you can see here. Discover the step-by-step setup tutorial below: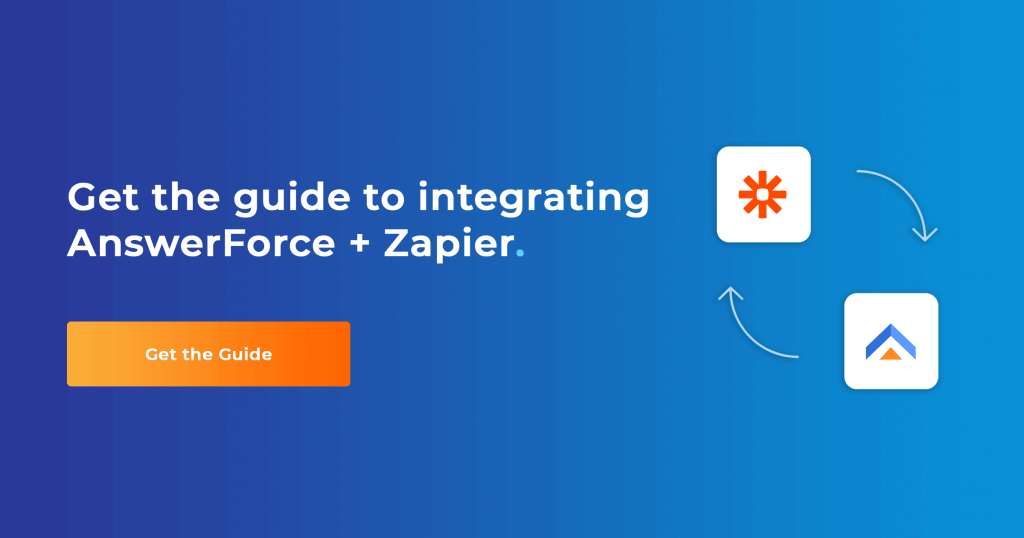 Save time
Manual data entry is not for everyone. Especially for business owners — where time is of the essence.
But, through the Zapier integration with AnswerForce, you can remove some of the manual work.
For example, let's say your business keeps a Google spreadsheet populated with each new call received from AnswerForce. Rather than manually copying the details over, why not let Zapier do it for you?
This way, the contact details and message of each caller are recorded by a receptionist. After this, the details are instantly sent to your Google Sheets.
The result? On average, it saves 1.2 hours a week!
Find out how to set this up below:
Improve your workflow, close more deals
Do you use a task management system like Autotask or Zendesk? If so, the AnswerForce-Zapier integration will help.
First off, a professional virtual receptionist will provide 24/7, 365 days a year support. Because of this, leads will be captured day and night.
Following each call, a 'zap' will transfer call messages into tasks in real-time. This way, your team can prioritize tasks and respond faster.
Not bad, right?
Collaborate smarter, not harder
Today, customers expect fast solutions. As such, teams need strong communication and teamwork skills.
Thankfully, the AnswerForce-Slack integration provides a perfect solution. First, AnswerForce will handle the inbound call and chat inquiries.
Following this, the Zapier integration transfers the contact and message details directly into the Slack channel. From here, your team can discuss, manage and resolve customer inquiries.
Sound like a good idea for your business? If so, then check the tutorial below:
Project management made easy
According to the Project Management Institute (PMI), over 50% of projects fail. And managing projects is certainly a challenge.
Yet, project management platforms like Trello make it a lot easier. Trello offers a collaborative platform that makes it easy to track the progress of projects.
The AnswerForce and Zapier integration improve the process further. It allows customer messages, collected from AnswerForce virtual receptionists, to be directly exported into a project queue.
As an outcome, you will be able to assign team members, deadlines and monitor the progress of your projects. Because of this, it enables accountability and increases the chance of project success.
Above all else, this helps grow your business and stay organized. Check out how to set this integration up by clicking the video below: