Recruitment can be difficult in any industry. But if you're managing an HVAC service center, you know hiring for this role can be particularly challenging.
It's a competitive field. It's a job that requires stellar customer service, technical aptitude, and knowledge.
In peak seasons, HVAC companies become overwhelmed. It's all hands on deck. If you don't have enough staff, you lose opportunities and customers. So, hiring technicians ASAP is essential in maintaining good business.
How do you select the best candidates for the job? Picking the wrong candidate will equal poor customer service. You need to ask the right questions.
General questions
Do you have a driver's license and a clean record?

Why are you looking for a new role?

Why do you want to work for our company?
A driver's license and perfect record aren't essential. But how else are they supposed to get to the job if they can't drive? You're also responsible for your company's vehicle insurance. So having an employee you can trust behind the wheel is something you'll want to check.
The final two questions assess the candidate's motivations for the job and enthusiasm for your company. A candidate who is honest about their motivations and taken the time to research your company demonstrates clear interest in the role and your company.
Experience questions
 

What certifications or qualifications do you have?

 

What tools—or brands of

tools—do you have experience using?
 

How have you used mobile

tools on the job?
 

Tell us about your

previous roles in HVAC.
 

Tell us about the most

challenging experience you've had so far as an HVAC technician and how you resolved the situation.
A potential employee needs to have hands-on experience in the HVAC industry. Although not a requirement, having to train new employees from scratch can be costly and time-consuming. But everyone needs a start.
Understanding the candidate's experience with tools will also judge how much training they'll need to integrate with your company. Providing relevant and thorough training from the offset will prevent gaps in knowledge and improve customer service
The last question will gauge their problem-solving abilities. You know how tricky the challenges can be when out on a job. This tests how they approached a challenge and how they met its requirements. What they learned from it is also a useful question to add.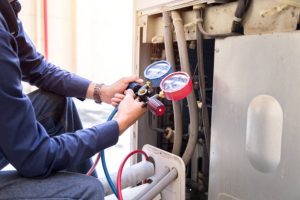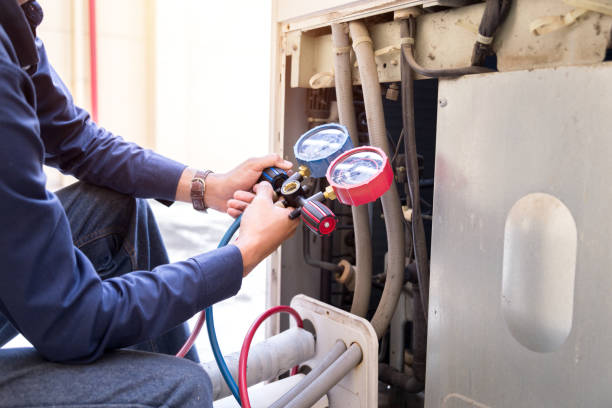 Technical questions
 

How would you explain a technical diagnosis to a co-worker

 

What's your current understanding of

different types of air conditioning systems?
 

How would you describe a

technical diagnosis to a customer?
 

How do you stay up to date

with HVAC developments?
The answers aren't the only important factor here. The way they respond is crucial. Customers will want an easy-to-understand explanation of the problem and its solution. The technician must be able to simplify technical terminology to make it understandable. 
It's also crucial to see here how they will communicate with team members. If they can't specify a problem with the correct technical language you may need to provide extra training to ensure efficient communication in your team
The last question highlights their ability to learn. A candidate who has no idea where to find relevant HVAC news is unlikely to care about improving their skills in the industry.
Customer service questions
 

How would you handle a

demanding customer?
 

A customer is unhappy with

their bill. What do you do?
 

How would you resolve a

customer's concerns about energy or the environment?
 

Talk about a specific

challenge you've had with a customer, and how you resolved the situation.
 

After diagnosing a

problem, you realize you don't have the necessary parts for repair. What do you do?
 

A customer appointment

takes longer than expected, and you have other jobs booked in for later in the day. How would you handle this scenario?
Your technicians must also blend technical abilities with interpersonal skills. They are the face of your company so customer service is a vital skill. This is also a chance to throw in so problem-solving questions to see how they'd react under pressure.
Technicians must also be prepared to deal with frustrated or stressed customers. In the dead of the summer, a broken air conditioning system can result in some disgruntled customers, and the repairs can be expensive. Your employees must be ready to deal with hot-headed customers without losing their cool.
Customers want to know about energy costs and the impacts of the systems on the environment. An employee who can use their knowledge in a way customers understand helps with re-assurance and customer service.
The final question is crucial. Safety is the priority when working and rushing a job can cause accidents. If a difficult repair is taking longer than expected technicians should contact later appointments to explain the situation. Strong customer service and communication is vital for your company's reputation and repeat sale.
An HVAC answering service that supports your growth
As you build up your team you can take on extra workflow. But with that comes a higher rate of trade from customers. That's why having a 24/7 answering service is important. It manages the leads that come through your improved work rate, leaving you to focus on your team or job at hand.
In a business that relies on strong customer service, you can't afford to take risks with who you chose to represent it. That's why by asking the correct questions, you'll know whether a candidate is right for your company. The same can applies to your answering service.
With a company like AnswerForce, you can guarantee every one of your calls gets answered. Leaving customers with the satisfaction that they chose the right business for them.
A strong workforce and a solid answering service is all you'll need to take your business to the next level.