In an ideal world, when you leave the office — whether the office is part of your home, or anywhere — the last thing you should be thinking of is work. Still, niggles may arise: What if I miss an important update? What if someone wants to make an appointment?
Nobody wants to miss valuable opportunities, but it's impossible to be fully available 24/7.
In such instances, an after hours call answering service provides much-needed support and peace of mind:
Yes, all of your calls will be answered, no matter what time of day or night it may be. ✓
Yes, you will continue booking customer appointments. Plus, your team will get updates. ✓
Yes, you can always be confident in knowing a polite, helpful voice represents your business. ✓
To help reassure you further, we've put together some FAQs related to after hours call answering. Browse them below.
After hours call answering: the basics
What is an after-hours call answering service?
An after-hours call answering service is a guaranteed way to ensure that all calls to your business get answered promptly by a real person, even outside your working hours. It relies on a network of live receptionists to help answer phone calls and engage in web chats. The response style is always professional, and always quick.
What is considered 'after hours'?
After hours would include any calls that arrive after your business is closed, or before it opens. When it comes to your AnswerForce plan, all call support is charged at the same rate, so you don't incur additional charges for 24/7 service, including calls answered outside standard working hours.
Who answers incoming calls outside of business hours?
A team of virtual receptionists works together across different timezones to ensure all your calls continue to be answered, day or night, 365 days a year.
Want to know more about receiving calls after hours?
Keep reading below! We'll introduce you to how this service works at AnswerForce.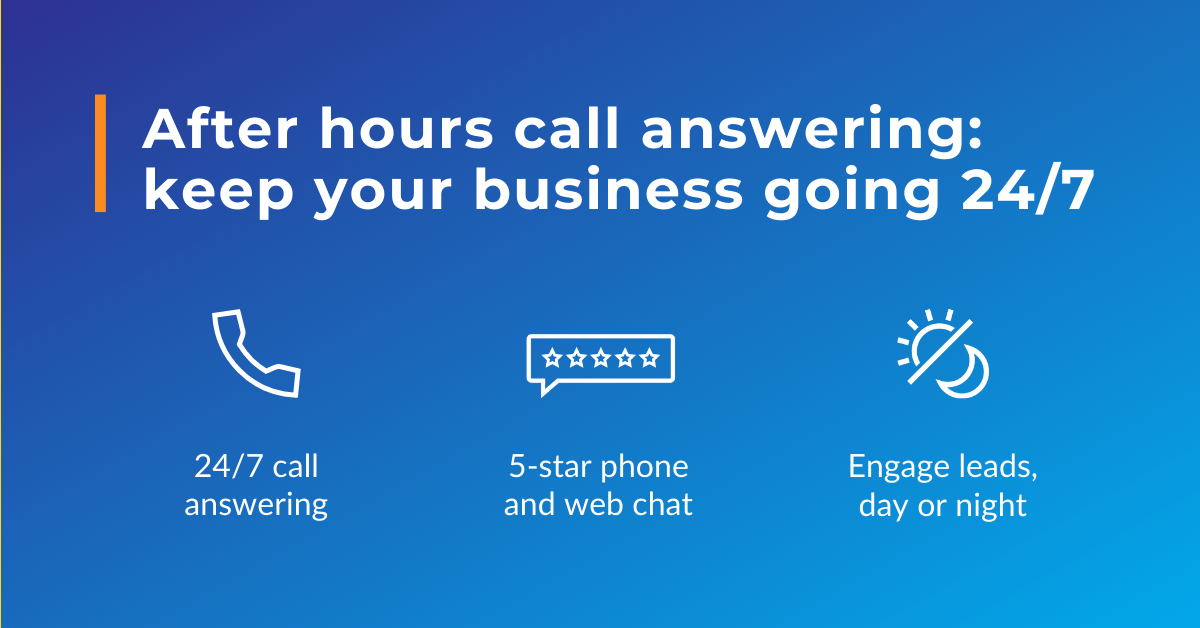 Discover how AnswerForce supports your business after hours
After hours call answering enables many businesses to operate around the clock, without committing in-house resources to cover all those hours. Find out how the service works at AnswerForce.
What happens during weekends and other national holidays?
We continue to answer all calls, 24/7/365. Your plan remains active during weekends and holidays.
Will my callers know their calls are being managed externally after my business is closed for the day?
Your dedicated team of live virtual receptionists answers calls on behalf of your business. They always follow a customized script that you approve in advance. All calls are always answered by highly trained professional receptionists who work across the United States.
Can I use all the features of my plan during after hours, or just call answering?
All the features of your AnswerForce plan are available 24/7/365, including after hours.
What if I change my business hours, even on a temporary basis?
You can edit the call script with this information at any time. Here's a quick tutorial on how to make an update:
Want to learn more about AnswerForce after hours call answering?
We'd be very happy to help. Please feel very welcome to browse 24/7 call answering plans, or start a chat below!