During the month of March 2022, Idaho Food Bank hosted the #IDAHOKIND challenge. We were delighted to be able to support this wonderful project as part of the AnswerForce Giving Back Program.
Generosity and kindness are key factors in addressing food insecurity. From volunteers to individual and corporate donors, Idaho Food Bank relies on the ability to help their neighbors who are struggling through the kindness and generosity in our communities.
Idaho kind encourages individuals to do acts of kindness with the goal of generating 1,000 acts of kindness as well as raising food and funds to provide 2 million meals. This is a movement where good intentions and action collide and during March, stories of kindness are being shared to uplift and inspire others.
To share the inspiring stories, Idaho Food Bank created a Kudoboard and it really is amazing to read that so many community members joined the campaign and raised funds, and volunteered at the food bank or food drives. One young boy even decided that he had too many toys already, so for his birthday instead of gifts, he asked that everyone bring food that could be donated to the Idaho Food Bank!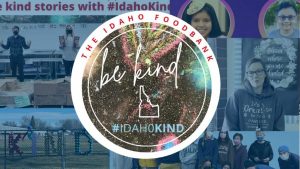 Kindness is choosing to do something that helps others and we would like to encourage all our colleagues, clients, and our communities around the globe to pay it forward and participate in this awesome campaign with at least one act of kindness.
"Remember, there's no such thing as a small act of kindness. Every act creates a ripple with no logical end." —Scott Adams
If there are any campaigns or partnerships that you think we should get involved with, we'd love to hear from you! Get in touch with our team at marketing@answerforce.com