If your business relies on appointments, having an online calendar is essential. Whether you're booking meetings, call-outs, or arranging follow-up calls with customers, every business needs accessible scheduling software.
Setmore offers a user-friendly, reliable way for you to capture leads 24/7. The appointment-scheduling software helps keep your calendar up to date, by maximizing your availability to take customer bookings. You can book appointments yourself, or rely on our live answering team to schedule appointments whenever your callers request one.
We love what Setmore offers. That's why we highly recommend the Setmore + AnswerForce integration, to ensure your users can book appointments with ease.
The AnswerForce-Setmore integration allows you to:
Sync calendars

Minimize no-shows

Improve ease of booking

Reduce business expenses

Enable appointment booking 24/7
Here's a preview of what you can expect by integrating Setmore with AnswerForce. Learn more below!
How does the AnswerForce-Setmore integration work?
Once you integrate your AnswerForce and Setmore accounts, a team of live virtual receptionists book appointments for your callers around the clock. Whenever someone calls, the receptionists tell them which times you're available, and then book a convenient appointment. The calendar automatically syncs with any updates you make on your side, so it's always up to date.
A confirmation of the booking is immediately sent to the caller and to you, providing peace of mind with 5-star service.
Each appointment is automatically added to your online calendar. Meanwhile, you can continue to focus on the big picture of your business, while we help take care of customer service.
By using Setmore with 24/7 live answering from AnswerForce, your business can generate more leads. That means more revenue for your business. From reducing no-shows, to taking payments in advance, discover more exciting benefits below!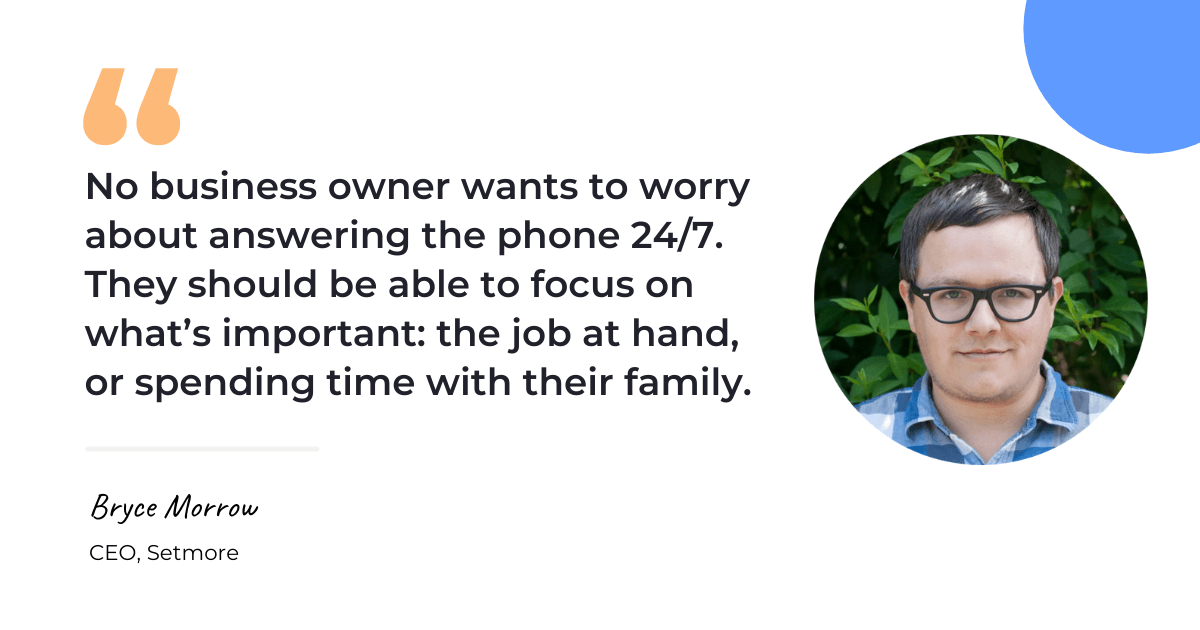 Reduce no-shows, with the help of automated reminders
No-shows are bad news for any business. They take time that could otherwise be spent on interested customers and leads. Thankfully, the Setmore integration with AnswerForce can help. 
Automated text and email reminders are available for your customers and employees. These services improve punctuality and attendance rates for appointments, consultations, home visits and more. 
Take payments in advance
As a business owner, you'll know that payment upfront is always welcome. You'll be glad to know that AnswerForce receptionists can handle these payments for you during calls, prior to appointments or site visits.
Customers also benefit from paying in advance. It gives them greater visibility into how much they should set aside for your services, and makes them more likely not to cancel the appointment.
Manage group bookings and virtual training sessions
Setmore makes it easy to manage group bookings. If your business hosts webinars, training, or meet-ups, then the AnswerForce-Setmore integration offers a simple booking process. 
Friendly receptionists are available to help manage group bookings. A polite and professional experience over the phone, or via live chat, sets the right tone for everything to follow.
There are many different scenarios that may benefit from a group booking system:
If you work in a corporate head office, you may want to offer virtual training sessions. We see this a lot with franchisors and franchisees, and with other teams who need to keep field staff in the loop.

If you provide home services, you may want to use the group booking feature to keep colleagues aware of industry updates.

If you're a keen networker, you may want to host virtual meet-ups or conferences.
We're all about building community together, and the group booking feature is a great way to do that!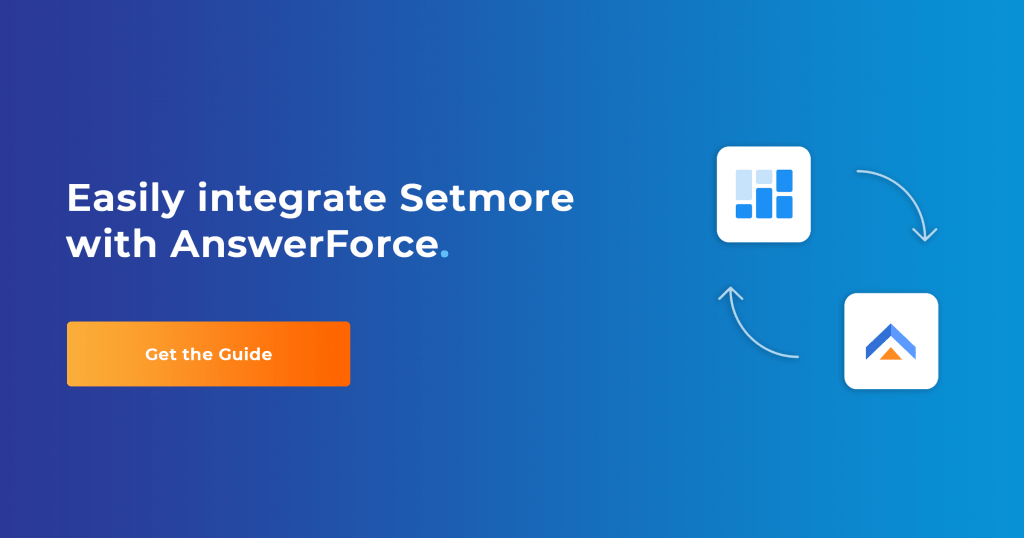 Schedule video meetings, anywhere
Do your appointments require a physical presence? If not, then why not take them virtually? 
The AnswerForce-Setmore integration also comes with a video meeting solution. It's powered by Teleport, which enables 1-click video meetings. Wherever you are, you can transform your cell phone or laptop into a meeting room! 
Additionally, it includes useful features such as group chat, screen sharing, and the ability to post links. 
When you've got AnswerForce receptionists helping book appointments on your behalf, they'll send across confirmation emails, including an optional video link, to your business and the customer. The video link can also be included if you're self-managing appointments on Setmore.
By adding video meetings to your appointments, you can deliver personal service to your customers, from the safety and convenience of a virtual setting.