Food insecurity is a vicious cycle. It's incredibly difficult to break. 
Because unemployment can come fast and unexpectedly, food insecurity can happen to anyone.
That's why Feeding America West Michigan created 'The Fresh Start' initiative — built to help people escape financial and food insecurity. 
What is the scale of food insecurity in West Michigan? 
Food insecurity has a far-reaching impact across West Michigan. 
To illustrate, 1 in 8 people in West Michigan and the Upper Peninsula region struggles with food insecurity. This causes harm to physical and mental wellbeing.
Following the outbreak of the pandemic, a mother, and part-time student fell into a horrible situation. 
She soon found it difficult to provide for herself and her daughter.
"With bills to pay, feeding our family and pets — I had a slight panic attack," she said, while speaking with the food bank.
This encapsulates the overwhelming feeling of hopelessness facing many people. Fortunately, organizations like Feeding West Michigan have stepped up to support people. 
They provide both immediate and long-term support.
What is the fresh start initiative?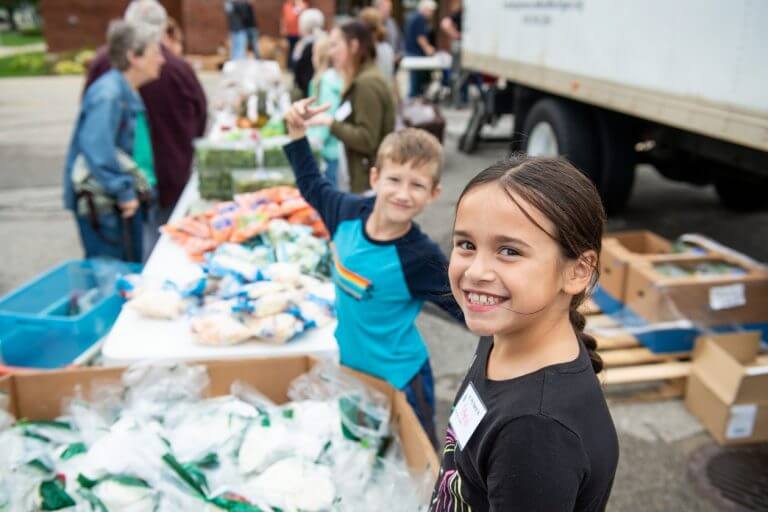 The fresh start initiative aims to help people suffering from food insecurity get back on their feet. Three main pillars exist for achieving this goal: nourish, empower and enable. 
First, 'nourish' refers to providing high-quality and nutritious food. Access to healthy food helps prevent chronic diseases and impaired development.
Second, 'empower' strives for educating neighbors on how they can achieve a healthy lifestyle on a budget. This is achieved through education on healthy wellbeing. For example, the food bank runs cooking classes and nutrition education. 
Third, 'enable' is focused on providing the tools and resources for neighbors to excel. By providing cooking supplies, recipes, and tip sheets, neighbors receive the knowledge and confidence to overcome food insecurity. 
This initiative is inspiring and admirable. In such a desperate time, this support goes a long way to helping improve the lives of so many people. 
How do AnswerForce customers help?
AnswerForce is now an official corporate sponsor of West Michigan Food Bank. As a result, your support has enabled more than 20,000 nutritious meals in this community alone.
Every month, we donate to multiple food banks across the United States. By simply being an AnswerForce customer, you help make this possible.
For more information on the AnswerForce Giving Back program, visit https://www.answerforce.com/giving-back.