A bilingual answering service makes it easier for more callers to interact with your business. The benefits are many, but if you've not previously used a bilingual receptionist team, you may be wondering how it can help.
Consider for a moment that 13% of the US population speaks Spanish at home, according to the US Census Bureau. That's a significant subset, representing more than 37 million US residents over the age of five.
Would you like to tap into opportunities in this market? A bilingual call answering service can help. It does this by enabling your business to:
Use the preferred language of a wider customer base. ✓
Become more known throughout the community and gain more referrals. ✓
Stand out as a trusted business that not only responds to customer needs, but actively listens and engages. ✓
When speaking with a bilingual agent, callers can provide greater detail and context. Business owners can also be assured that key information gets recorded. Learn more about the benefits and practicalities of bilingual call answering below.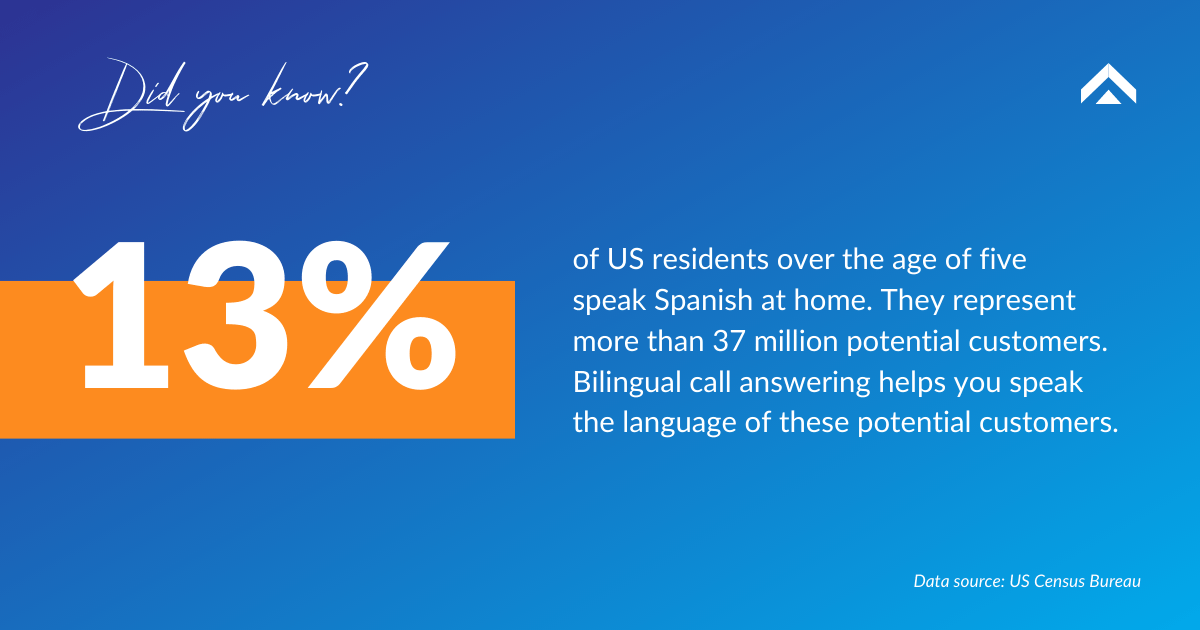 Bilingual call answering models: discover the basics
What is a bilingual call answering service?
A bilingual call answering service assists callers in their preferred language. When powered by human teams, a bilingual answering service relies on the communication skills of professional receptionists who speak more than one language.
What does a bilingual receptionist do?
Bilingual receptionists patch callers through to the correct person or department. They may also assist with booking appointments, thus making it easy for the caller to interact, and helping ensure that key details are accurately recorded.
What are the benefits of using a bilingual receptionist team?
By being able to communicate in their preferred language, callers can provide deeper context into their reasons for calling. As a business owner, you can also be assured that key information gets added to every call record. This means you can go with confidence into every new business opportunity.
Want to know more about bilingual call answering?
Keep reading below! We'll show you how the service works at AnswerForce.
Learn more about bilingual answering at AnswerForce
Active listening plays an important role in bilingual answering at AnswerForce. The bilingual team engages this technique to ensure callers have a positive experience with the business they're calling.
Calista Utter, senior lead for bilingual answering at AnswerForce, says: "As bilingual call agents, we help bridge the gap for more people to be heard and understood. We facilitate a level of communication that would not otherwise be possible, and I find that amazing. That is what I enjoy most about delivering a bilingual call answering service."
Find out more about how bilingual call answering works at AnswerForce.
What languages do you offer?
We offer 24/7 answering services in English and Spanish.
Do I need to pay more for bilingual answering?
No. Bilingual call answering is part of your monthly plan.
Do you provide bilingual receptionists for medical answering or legal answering?
Yes, we offer 24/7 bilingual answering services in every field. That includes industry specialisms, such as medical and legal.
Will you outsource my calls to another provider?
No, we do not outsource calls to third-party agents. Our receptionists work as part of a distributed model, meaning they typically work from their home offices. They are all employed by AnswerForce and based within the United States.
Will bilingual receptionists be available in the time zone of my callers?
Our teams of bilingual receptionists work in shifts, meaning a helpful bilingual agent is always available to help answer your calls, 365 days a year.
Do you have any other questions about bilingual call answering at AnswerForce?
We'd be very happy to help. Learn more about live call answering services, or start a chat below!