More than half of customers may not contact a business if they don't expect to speak with a real person when they call.
Often, this mindset comes into play when a problem arises, and an existing customer must consider whether to attempt to work with the company to resolve the issue. For business leaders who want to actively retain customers, that's a troubling fact.
So, how can you ensure that your business effectively connects with all customers and prospects?
You may want to consider a live answering service. By providing a team of professional receptionists who can help answer all your calls, you can convert more callers into loyal customers, while retaining existing ones.
Paolo P., a live receptionist at AnswerForce, says:
"Being part of a live receptionist team is more than just taking calls. It's about helping people connect, while keeping things moving forward. Whether it's helping looking up an order, scheduling an appointment, or just forwarding a message, I know that I am doing my part to help clients around the world grow and to keep their lines of communication running smoothly so they can get to everyone's needs in a timely manner."
From a business perspective, using a live call answering service gives you a competitive edge from others in your market. By offering a live answering service, your business:
Saves valuable time for your callers ✓
Builds relationships and trust with customers ✓
Presents your business in a caring, professional light ✓
Learn more about how a live answering works below.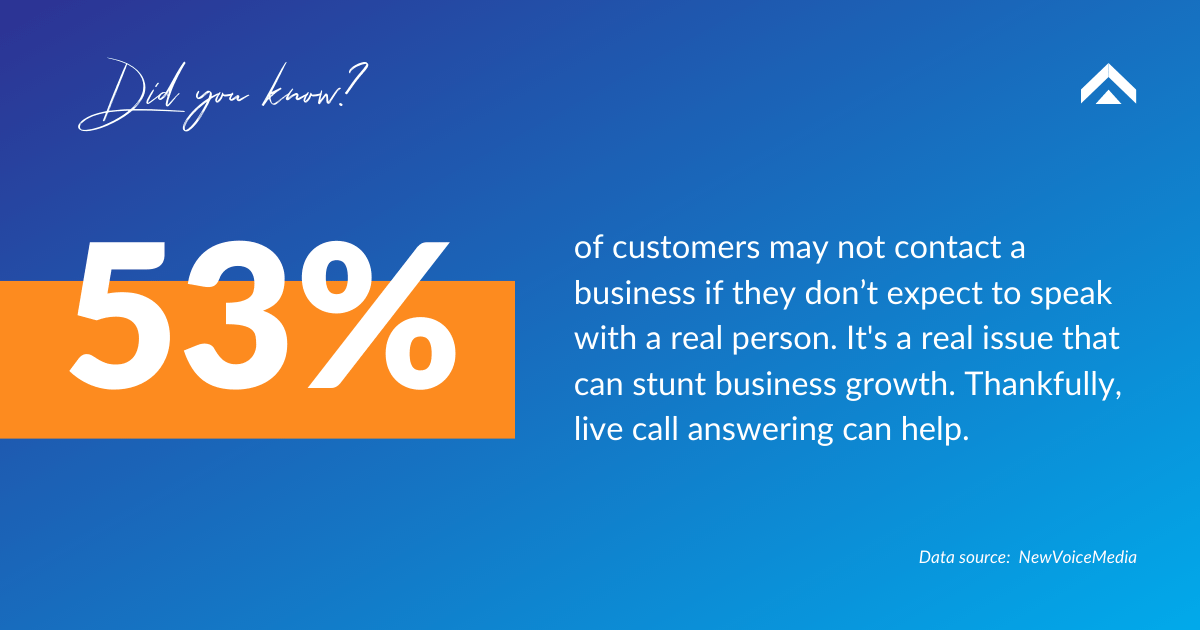 Live call answering models: discover the basics
What is a live call answering service?
A live answering service is an extension of customer service. A team of professional virtual receptionists answers calls on behalf of your business, 24/7.
What are the drawbacks of using alternative answering systems?
When contacting a business, many callers won't leave a message if a machine picks up. They're also likely to be frustrated by layers of automation that make it difficult to reach a real person. A caller could be a prospect or an existing customer. In both cases, callers almost always prefer instant support and warm engagement.
What does a live receptionist do?
A live receptionist ensures all calls get answered promptly. They can also book appointments, take orders, contact customers on your behalf, and more. Dedicated receptionists are also able to populate your preferred platforms with vital customer information, often through call answering integrations.
What are the benefits of using a live call answering team?
A live call answering team presents a consistently positive representation of your business. When used 24/7, you can be assured of capturing more active leads, every day of the year.
Want to know more about live call answering?
Keep reading below! We'll show you how the service works at AnswerForce.
Learn more about live call answering at AnswerForce
The ability to answer calls in four rings or fewer should be a key expectation when choosing a live answering service. That's just one of the promises we deliver on at AnswerForce. Learn more.
When will my account be active once I sign up?
Immediately! As soon as you sign up, your calls are ready to be answered by professional receptionists. The team uses a structured script to represent your business with consistency and accuracy.
How is the script created?
Our receptionists use a basic message-taking feature. This populates essential details of your business at the point of sign-up. If you prefer to add more detail to the script, we can meet with you via video link to capture more requirements.
Who will answer my calls?
All of your calls will be answered by a team of experienced virtual receptionists. They are based in the same country as your business, whether that's the US, Canada, or the UK.
Do you provide live answering service to a small business as well?
Yes, we provide 24/7 live answering service to small and medium-sized businesses. We also have a dedicated team that answers calls for franchises.
Will a receptionist always be available in the time zone of my callers?
Your team of live receptionists work in shifts, via a distributed model across the country. As a result, friendly agents are always on hand to answer calls any time of the day or night, 365 days a year.
Do you provide live answering service in Spanish?
Yes, we do. Our team of bilingual answering specialists will answer your calls in both English and Spanish.
Do you have any other questions about live call answering at AnswerForce?
We'd be delighted to help. Watch the video to learn more.