What is a live virtual receptionist? And how do virtual receptionists work?
We'll get into all the details, but perhaps we should clear up one common misconception: when it comes to virtual reception services, the only virtual element is location. We are very much real people, despite the way it may seem when you hear 'virtual' in front of receptionist. Awesome as it would be, we're hardly robots. And, when it comes to AnswerForce, our virtual receptionists who serve US customers also live in the United States.
Now, back to the larger question of what is a virtual receptionist, and how do virtual receptionists work?
Let's find out from someone who knows the answer through on-the-job experience. Here's an explanation from one of our live virtual receptionists, Kelly M. O'Brien:
Being a live virtual receptionist means shaping an exceptionally positive first impression for prospects, and maintaining that with customers. Whether you're chatting on the phone or over the web, you have the ability to make or break a strong business relationship. The smile in your voice sets the tone for each interaction.
Kelly knows what it takes to deliver professional service as a virtual receptionist, particularly over the phone. Phone calls have always been one of the most important touch points for customer interaction, and this remains the case today. Business growth is driven largely by phone contact, with more than 90% of customer interactions occurring over the phone.
Yet, hiring an in-house receptionist is a costly investment, and you may still miss after-hours calls, lunchtime calls, and even leads who get put on hold and hang up. Thankfully, more effective solutions are readily available. A live virtual receptionist, for example, provides one of the best value-for-money lead capture and customer engagement solutions a business can find.
The real-life voice — and ability to offer proactive and helpful guidance — of a virtual receptionist helps deliver happiness along the customer journey. Read more below to learn about the key business contributions made by live virtual receptionists.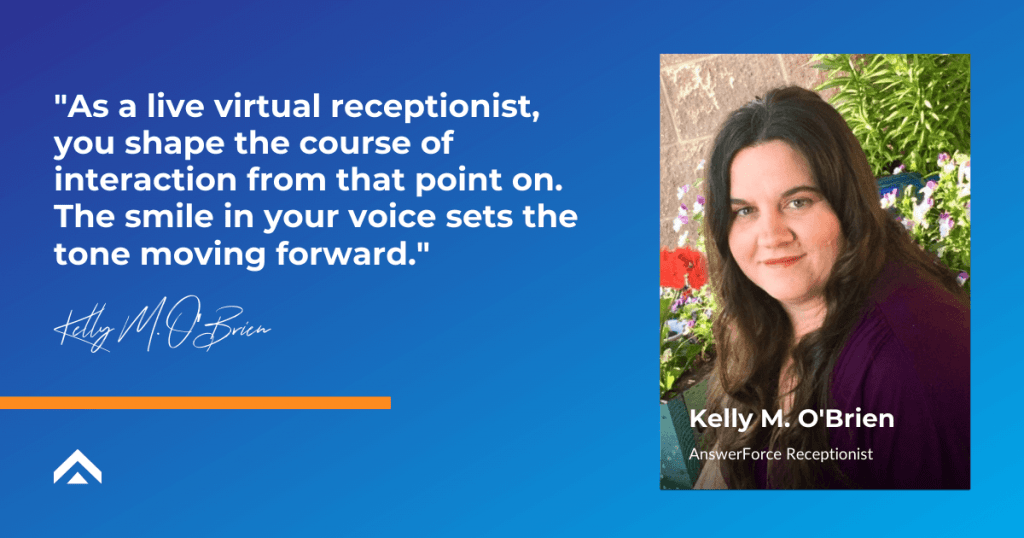 Exploring the role of a live, virtual receptionist
A virtual receptionist is a real person who helps answer customer calls, book appointments and make outbound calls for lead generation. This person helps ensure you deliver great customer service. A virtual receptionist is extremely professional and likely to have developed advanced phone etiquette.
Highly experienced virtual receptionists are as polished as any in-house receptionist. Great virtual receptionists are uniquely skilled to serve niche industries, yet adaptable enough to respond proactively to all call types, from any industry.
Here's a great example of how a live virtual receptionist answers a call. Check it out!
As you can hear from that call, despite being based outside of your location, a virtual receptionist serves an active business support function. They help answer calls whenever you or your local team cannot.
Here's what you should expect from a live receptionist service: When you're busy, or simply prefer not to take calls, a team of virtual receptionists should always be available to answer overflow calls within four rings or fewer.
A high-performing virtual receptionist team enables your business to remain open 24/7/365, even when you're not around. 
In addition to receiving calls, virtual receptionists are also skilled at making outbound calls to help generate revenue and tap business opportunities. Using a virtual receptionist solution allows business leaders to focus on long-term growth.
Virtual receptionists helps you ensure that all calls get answered or made quickly, with callers encountering a professional and polite person every time they contact your business.
Learn more below about how live receptionists works together to provide 24/7 phone answering support.
How do live virtual receptionists work?
Believe it or not, virtual receptionists aren't super-human! Yes, they are awesome — usually costing you less money than an in-house PA — but they do eat, sleep, and have families. (How else would they be so great at relating to your customers?)
For these reasons and more, they work as a unified team. They are trained to update customer records at the point of contact, helping ensure everyone who serves that customer can quickly see the history and actively support any follow-up requirements. 
It's great to know you've always got a deep bench of professional PA talent always at your service. But ultimately, your virtual receptionist team focuses 100% on driving business growth. They work to save you time, money, and effort.
From the start, virtual receptionists will meet with you to understand your unique business needs and customer base.
The relationship begins with a meeting between the virtual receptionist and yourself, the business owner. During this time, the virtual receptionist will interview you about your business.
An experienced live receptionist will confirm basic operational details, such as:
Hours of business

Location(s)

Services

Products

Team and colleagues
The virtual receptionist will also capture any qualifying questions you would want to ask a customer yourself, such as:
How urgently do you require this service?

Are you ready to book an appointment now?

When's the best time to call back?

Do you have any unique requirements or considerations?
Some of these details will be submitted when you first sign up for a virtual receptionist service. But the follow-up meeting allows both parties to ensure all bases are covered.
Then, when a virtual receptionist answers a call, the receptionist greets the caller using your business name and assists him or her by following an agreed script and instructions. But just because a script is involved does not make it any less personal — great virtual receptionists are skilled at using empathy and active listening to help ensure the caller builds confidence in your business.
The classic phone call often serves as the first touchpoint your customers have with your business, so look after this experience. Take pride, actively listen, politely engage. But perhaps most importantly, be ready to answer, whenever the phone rings.