Lead generation and customer service are two of the most emphasized aspects of successful contemporary businesses.
Without quality lead generation, it's almost impossible for a company to consistently land sales and generate a steady revenue stream. And without quality customer service, your business risks developing a bad reputation and losing the benefits of repeat customers.
Fortunately, live web chat can integrate with your business website, helping you to boost sales and keep existing customers satisfied.
Lead generation leads to success
A business can't survive without steady lead generation. If you aren't consistently landing new leads, then opportunities will be limited for your sales team, and the company will see a drop in new revenue as a result.
In fact, 57% of B2B companies identify 'converting qualified leads into paying customers' as a top priority (MarketingSherpa).
The key word is "qualified". Once the lead is captured, there's still work to be done! You have to evaluate the readiness and ability of the lead to make a purchase. This is where many businesses run into trouble.
According to MarketingSherpa,  61% of B2B marketers immediately forward warm leads to their company's sales department, but this tactic only yields roughly 27% in completed sales. The truth is many sales teams receive leads that haven't even been qualified! After all, how can we sell to someone if we know nothing about them?
This is only part of the issue businesses are facing when it comes to generating quality leads. In the past, providing general contact information and a click-to-call button on your company website was enough to connect with consumers. However, as the millennial generation continues to enter the workforce and gain purchasing power, the communication process is changing.
According to a study conducted by openmarket, when given the choice between using their cell phone to text or call, 75% of millennials choose texting over talking.
Millennials hate voicemail. They're looking for a convenient and comfortable way to communicate with your business. By providing your customers with an alternative to traditional phone call and voicemail systems, you'll be better equipped to communicate with your customers across all demographics.
And better yet, adopting more communications solutions means you'll have more platforms for lead generation. This is where live web chat comes in handy.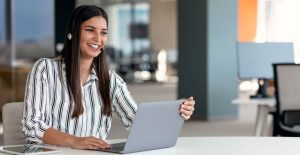 What is live web chat?
Approximately 96% of website visitors aren't ready to purchase (Marketo).
Crazy, right? This means that simply getting the customer to your website isn't enough to win the sale. They'll likely need some assistance along the way.
Instead of waiting or hoping for visitors to act, it's much better to proactively pave the path to sales by sending an instant invitation to chat. Live web chat applications can be quickly integrated into your current website, featuring your brand logo.
With live web chat, you can:
Answer product questions

Provide 24/7 customer support

Send chat invitations to visitors

Resolve concerns or technical issues

Analyse how visitors navigate your site

Send pre-planned messages in response to FAQs

Inform customers about complementary products or special promotions
With one click, your customers will be connected with a live agent, ready to assist them with any inquiry. Plus, by equipping your website with live web chat, you can reach users who dislike communicating with businesses via phone, opening you up to a previously untapped market.
Live web chat with AnswerForce
When your business partners with AnswerForce, your plan includes live web chat, which we can use to capture and qualify leads on your behalf.
Whenever a potential customer requires assistance, we can immediately capture that lead by collecting the visitor's name, phone number, and email. From there, we use a custom script to qualify the lead during that same call. This script can be adjusted by you at any time!
After qualifying the lead, we can then forward details to you via text, email, live call relay, or the AnswerForce app.
24/7 coverage ensures your customers will always be able to reach a live receptionist, including weekends and holidays. Every opportunity to help a web visitor is an opportunity to convert a lead, and AnswerForce helps make sure you never miss another opportunity. 
Worried about the cost? Studies show that installing live web chat is a profitable investment.
According to CSO Insights, organizations with lead generation and management strategies have a 9.3% higher sales quota than those that don't. Better yet, lead generation outsourcing is 43% more efficient than in-house generation due to the level of expertise available.(Fearless Competitor).
Your customer service solution                            
Live web chat is a fantastic tool for boosting customer satisfaction!
Instead of abandoning the shopping cart, a potential customer with a query can receive immediate answers to a wide range of questions, all at the click of a button.
Similarly, instead of dialing through to voicemail, an AnswerForce live agent will always be ready to assist by live chat or phone, 24/7, 365 days a year.
In fact, just having someone ready to answer the phone can be the difference between a sale and a missed lead! According to InsightSquared, 53% of customers are irritated if they don't speak to a real person right away. 
By offering your customers 24/7 assistance, you will generate more leads, improve your customer satisfaction and push your business ahead of the competition. Are you going to equip your business with the tools it needs to succeed? It's your call.
Learn more about live chat with AnswerForce: https://www.answerforce.com/live-chat