More than 90% of consumers say that a positive review makes them more likely to choose a business. And more than 75% trust online reviews as much as recommendations from their friends and family.
Getting reviews for your plumbing business is even more important. Customers who search for plumbers for a job will rely heavily on the reviews and opinions of others as they know little about plumbing themselves. On average, a customer will read ten reviews before making a purchase or contacting a business. And they expect you to have a minimum of 40 reviews before they'll trust your average star rating.
Getting reviews for your plumbing business
This might sound difficult to achieve, but it's surprisingly easy if you have a solid strategy. Here are some of the basic steps you can take to get customer reviews.
Have great customer service
Take the time to deliver the best service possible to your customers (you already do, we know!). This goes beyond the level of service you provide when on-site with your customers.
Make sure your customers can easily contact you, whether that's doing it yourself or having an answering service. In an emergency, your customers don't have time to wait or try multiple contact methods to speak with you, especially after hours.
Have them talk with real people. In a 2021 study, 78% of people said they preferred speaking to a real person over AI or a chatbot. Especially when talking to local businesses, trust is built by talking to people, that's why AnswerForce is part of Pledge People, Not Bots, and why we always recommend having calls and chats answered by real people.
It's also not nearly as difficult as you might think to set up call forwarding or after-hours support.
Choose your moment
Asking your customer to leave you a review while they're standing in a foot of water in their kitchen is not the best idea. Choose the right moment to ask for their feedback to maximize your chances of a positive review.
Plumbers on call have to deal with challenging situations. If your customer is stressed, then it can feel awkward to ask for a review. The key is to drop hints throughout the job and emphasize how important online reviews are to your business.
Consider adding instructions on how to leave a review to the invoice or linking directly to a review site in your email signature. Before you leave, mention how grateful you'd be if they gave you a review, and follow up with an email after a couple of days to get their feedback.
If they've forgotten to submit a review, this will be the nudge they need. Linking to your chosen sites makes the whole process streamlined and easy. Encouraging them to mention their area can also help customers who search 'plumbers on call' followed by their hometown, province, or state.
Be responsive
Getting reviews for your plumbing business is one thing, but remember to also reply (whether they're good or bad). Replying to your reviews shows that you care about your customers. For positive reviews, a simple "thank you" will make your customers feel valued and reinforce the level of service you offer.
In the case of negative reviews, ignoring them won't make them go away. How you respond to complaints will set you apart from your competitors and prove that you can work with customers to find a solution.
It shows that you're willing to solve complicated problems—such as burst pipes—and demonstrates that you're a strong communicator who won't shrink away from issues.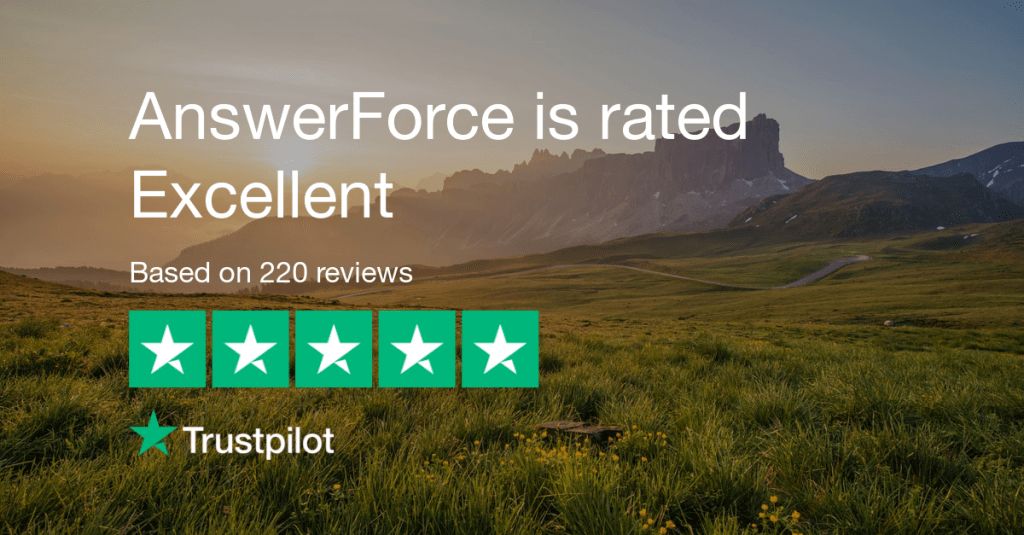 Take action
Making sure customer phone calls aren't missed while your team is on a job is a challenge many plumbers on call face. Every missed call is a missed opportunity. If your phone is never answered, customers will simply go elsewhere.
AnswerForce's plumbing answering service is a simple solution to never missing a call again. Because plumbing issues can happen at any time of the day, it's important your phone lines are open and manned 24/7. We make that possible.
You may already use an automated phone system, but customers looking for plumbers on call don't want to speak to a machine or a recording. They need assurance from a trained employee, which is why we have a team of receptionists who specialize in the plumbing industry.
Allowing your customers to speak to a receptionist who knows the plumbing industry will have a positive impact on your reviews. It will also position your business as an authority amongst your competition.