As an essential service, HVAC companies can develop rapidly. While this is fantastic for business owners, it poses a lot of challenges.
More customers need support, but you don't have the capacity to handle them.
Your team is growing, but keeping track of employees is difficult, especially lone workers.
On top of everything else, managing marketing and generating leads falls on the backburner. 
As your HVAC service center grows, manually managing so many business elements becomes impractical. Luckily, you can invest in digital tools to streamline many business processes.
Live answering and appointment booking
Appointment-booking software is essential for a growing HVAC center. A thriving customer base guarantees more appointments, but customers want convenience. If it's hard for customers to book appointments, they may take their business elsewhere. 
Our virtual receptionists make this easy by accepting customer bookings on your behalf. But we can also offer self-booking capabilities and an online booking system, as well as handling appointment reminders and other admin.
AnswerForce offers complete HVAC answering services. Our virtual receptionists are active 24/7, and they follow customized scripts and procedures suited to your specific requirements. 
All customers get the opportunity to talk with a human as a part of our broader live answering service. We respond to all general questions, picking up 95% of calls in four rings or fewer.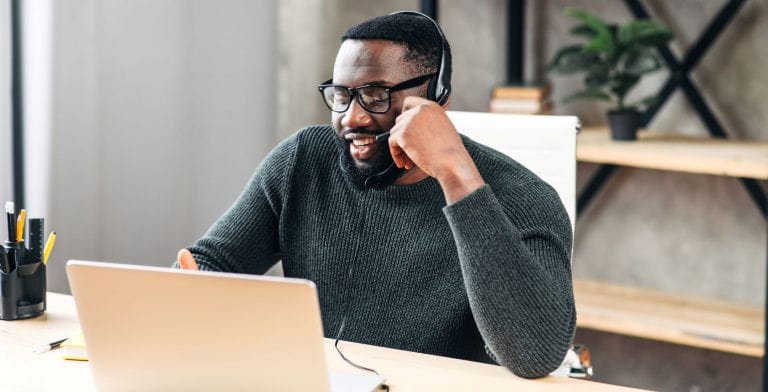 Qualify all leads
Investing in tools to optimize capturing leads is crucial to the continued growth of your HVAC company. As you get busier, it's hard to find the time to commit to each lead that comes in. Our virtual receptionists can do this for you.
Our HVAC answering service responds to every inquiry, even after hours. We capture leads you'd otherwise miss. Our operatives collect information from callers and conduct outbound follow-up calls. The Answerforce app connects you with colleagues, customers, and virtual receptionists, and can integrate with your lead generation and sales software to collate all data into one place.
Optimize your website
Speaking of leads, more than 80% of people search online for products or services. When customers are looking to contact HVAC service centers, it's almost always an immediate need. Something is broken and needs to be fixed ASAP. 
If you want your site to be the first result when someone types "AC repair Portland" in that Google search bar, you need to take the time to work on your search engine optimization. Conducting keyword research is where you can find what people are searching for and roughly how many searches there are for that keyword each month. Then you need to incorporate those keywords across your business content.
You'll need to optimize your website for mobile usage to guarantee the best results. A study from Semrush showed that only 17% of websites retained the same position on Google across both mobile and desktop. Similarly, more than 30% of URLs lost their ranking within the top 10 when searched via mobile. 
SEO aside, your website is valuable marketing material—it's your virtual store window. A professional-looking website is essential for establishing credibility. But it's also a resource. 
Your website allows your customers access to up-to-date relevant information about the business. It's also a way to showcase your offers and prices, show your phone number and email address, and offer live chat functionality for quick and easy response time.
Invest in live chat for 24/7 virtual access for all customers
The standard of customer service is rising. More customers expect a timely response to questions. The way they get in touch is changing too. The respondents of a Nielson survey commissioned by Facebook showed that more than 60% of people would prefer to message than call a business.
Live chat makes contacting a business both accessible and convenient for customers. Under 24/7 management, you can be there for customers the moment they need you, not hours later when they've already committed to a more responsive competitor. Live chat is excellent for converting warm leads and boosting customer retention.
Live chat, powered by AnswerForce, can be managed by your team or our virtual receptionists. We have agents online every hour, 365 days a year. So you'll never miss a message again. Advanced analytics also provide critical insight into customers, allowing you to nurture repeat website visitors into valued customers. 
Protect lone workers
HVAC service centers don't just need to be there for customers. They must protect employees too. HVAC technicians attend many different locations every day. It's crucial to invest in technology that can alert you to any incidents.
There's plenty of this tech out there. Some companies offer tools like motion detectors. If the device fails to detect motion, it'll attempt to check in with the employee. If they don't respond, it automatically sends out an alert.
Safety tools aside, the AnswerForce app helps to connect a separated workplace. Teammates can call each other through the mobile app for streamlined communication.
Employees can also be tagged or assigned projects and appointments. The app creates an interconnected work culture; although employees may still work alone in the field, it connects them and the wider workforce.
An all-encompassing HVAC answering service for your business
We understand the value of keeping your workplace connected. And that's why all of our plans include access to a cloud-based Tech Toolkit. Complete with scheduling solutions, team messaging, live chat, and more, the Tech Toolkit is included in all call answering plans. Learn more, or connect with one of our live operatives without leaving the website.