Plumbers, builders, HVAC specialists… Across the range of home services, small businesses do great work. They often become successful without much help from anyone apart from the person or family who runs them. Hats off to self-made success! 🧢
But, what if you want something more than the success you have today?
Imagine what 'more' looks like to you: It may be more revenue on your bottom line. More opportunities to expand and grow your business. More time to spend with friends and family, more time to pursue hobbies or interests of your own.
Whatever 'more' is to you, adding live chat to your site can help make that happen, more quickly.
Live chat: showing you hidden customers
For many home services businesses, the business owner may very well spend a lot of time on the road, visiting properties, etc. Chances are, you're not hanging out on your own website an awful lot!
If your website is pretty simple, and you don't update it very often, you may not know how many visitors are checking out your business. That makes it hard to know how many visitors could become customers.
But, there's good news! Easy-to-use chat widgets make it super simple for you to know how many visitors are online.
Even if you're not a web person, and even if you don't have someone helping, you can still discover the size of opportunity on your website. A live chat widget can show you who's visiting, and where they're from.
Here's an example of a web chat dashboard. You can see who's on your site at any time, and their general location, like this: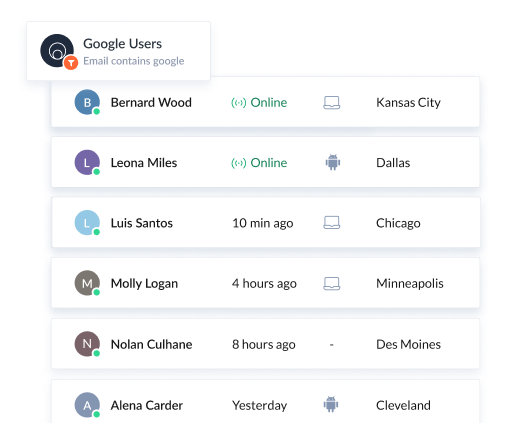 Using live chat to boost your home services website
Perhaps you're growing a busy plumbing business. Or maybe you're a home remodeller preparing for lots of seasonal activity.
If you don't spend a lot of time on your own website, then you may wonder what the point of live chat is. Why should you consider adding live chat to the website of a plumber, a home remodeller, or any other trade-based industry?
Here are three big ways that service industry websites benefit from live chat:
Booking more appointments
Being available to passive visitors
Standing out from the competition
Let's check out some great examples of live chat in action, on a variety of websites offering home services.
Fences and patios: using live chat to make appointments
Our first striking website (featured below) comes from the company whose name is also their phone number, (234) Out-Door. They're based in the Dallas-Fort Worth area of Texas, and they build fantastic outdoor structures for comfort and privacy.
On their site, you'll see lots of great things happening, from a bold call-to-action enticing the visitor to get a quote, to a clean and simple option to call directly. What's really cool, is how web chat brings it all together. Not only is it obvious how you can request a quote, or contact the business by phone, but it's also abundantly clear that a real person is ready to help answer your questions.
Live chat agents can help visitors make appointments for free estimates. They're ready to help customers enjoy the benefits of a modern gate, fence, pergola or patio, enhancing the exterior of a beautiful home.
As company director David Ashley says: "The huge advantage of having an appointment made is that it commits the window shopper. Just getting their phone number is far less valuable."

He adds: "It turns the window shopper into a customer. It builds a relationship and a commitment to a specific human being, my service rep."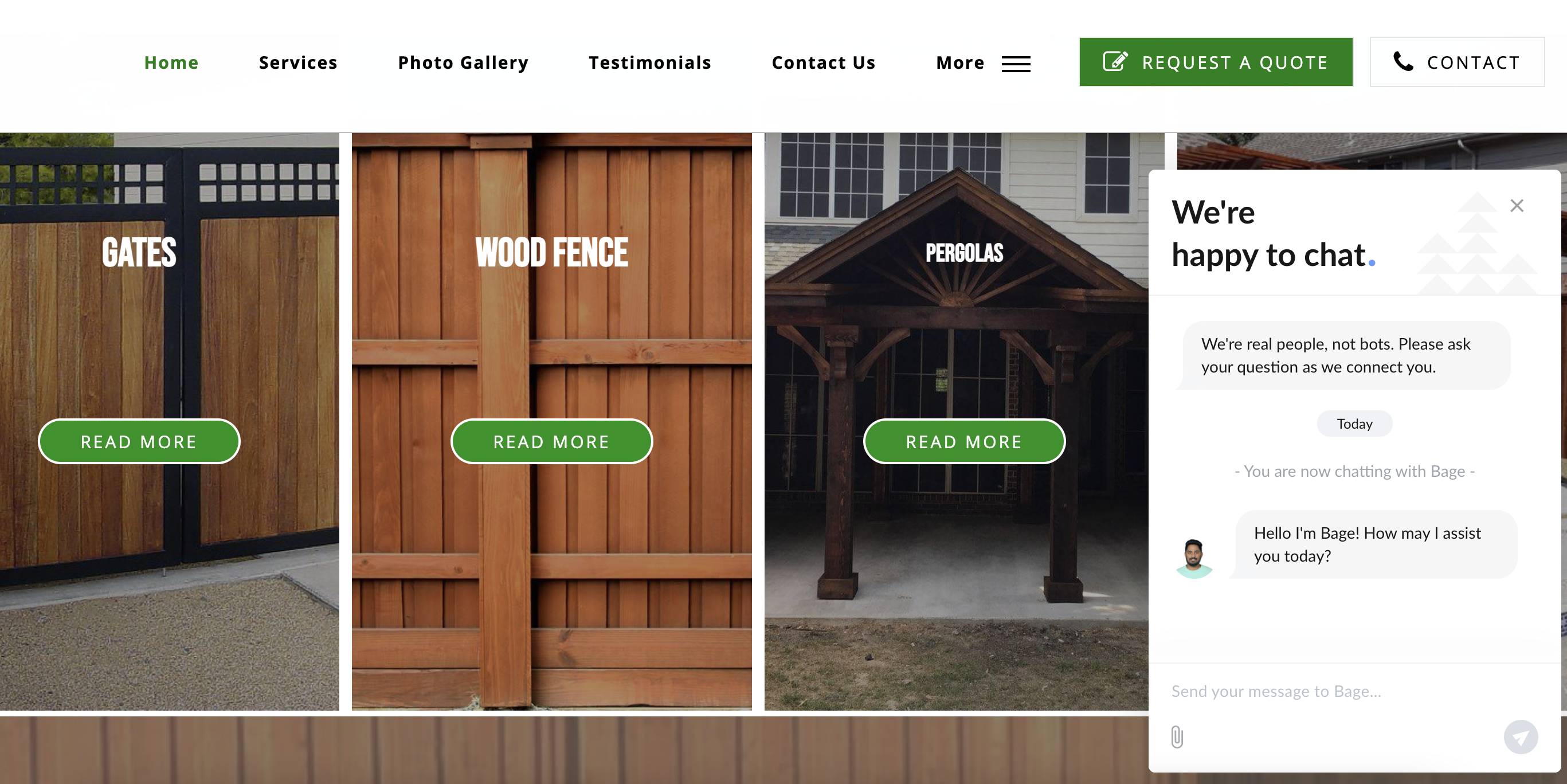 Guttering: using live chat to start a conversation
This clean, easy-to-navigate site comes to us from ONE Guard System in Clayton, North Carolina. The company specializes in gutter protection and cleaning, as well as seamless installation. By offering a friendly greeting on live chat, ONE Guard invites visitors to start a conversation about any issue the customer would like support on.
Based on the nature of the visitor's chat, the live agent could help facilitate a request for an estimate or survey, arrange a follow-up call, or offer additional support. The key thing is: the entire conversation is personal to that visitor in that moment.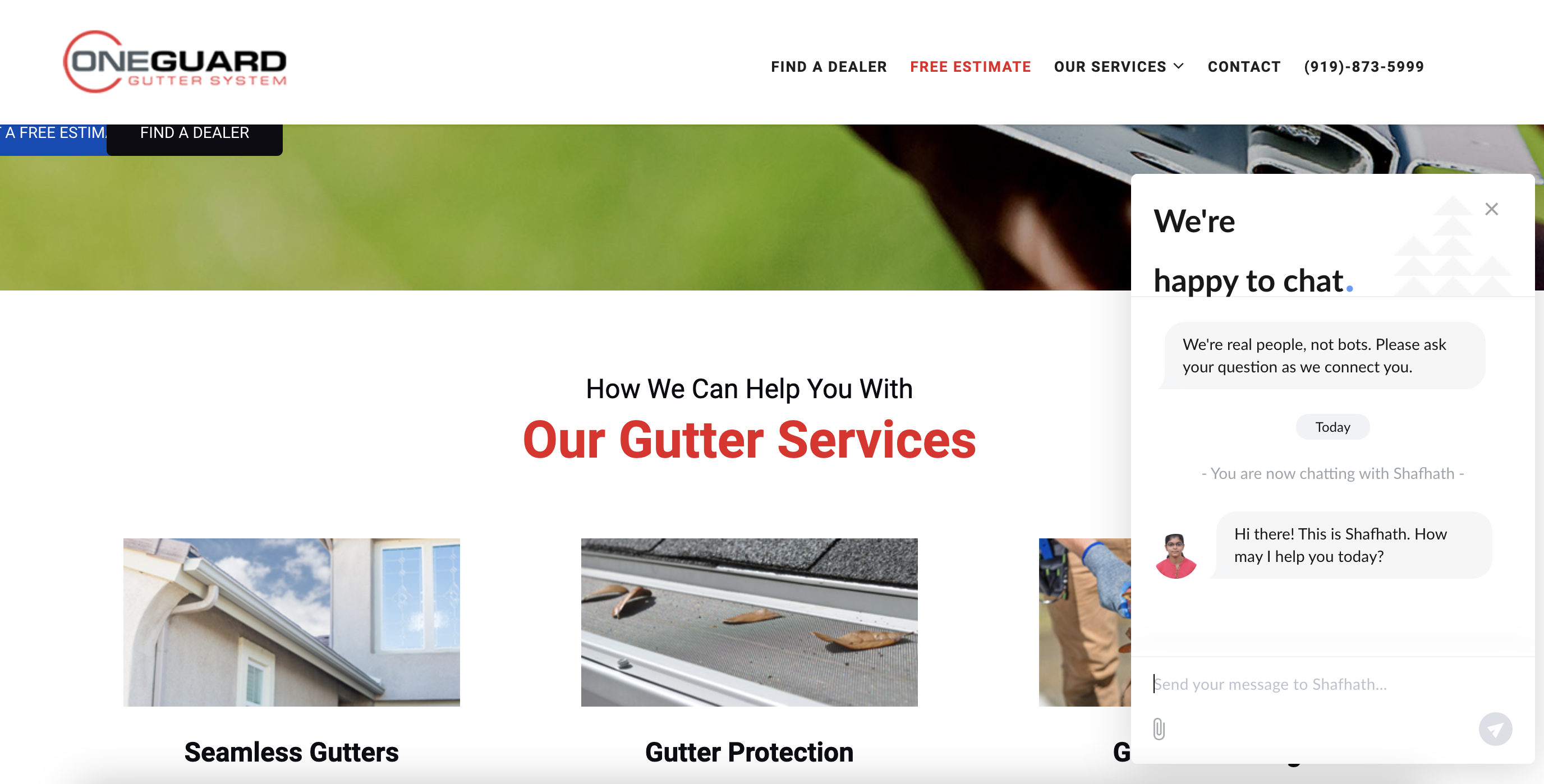 Heating and air-con: using live chat to capture leads
Here's a great example of a customer-centric heat and air company in Iowa. On their website, this team uses live chat with a form, ensuring they capture essenti al visitor information at the start of every chat. This means that even if the visitor disconnects, the team behind Your Heat and Air Guy can still follow up via email. It's a great way to build a leads pipeline.
Company owner Tom Schulz is also a third-generation HVAC specialist, so he certainly understands this industry well.

Tom says: "We use the chat feature because oftentimes, people will visit a website and then move on to another. Chat works almost like someone answering the telephone: it immediately engages the customer, making it more likely their search will end with you."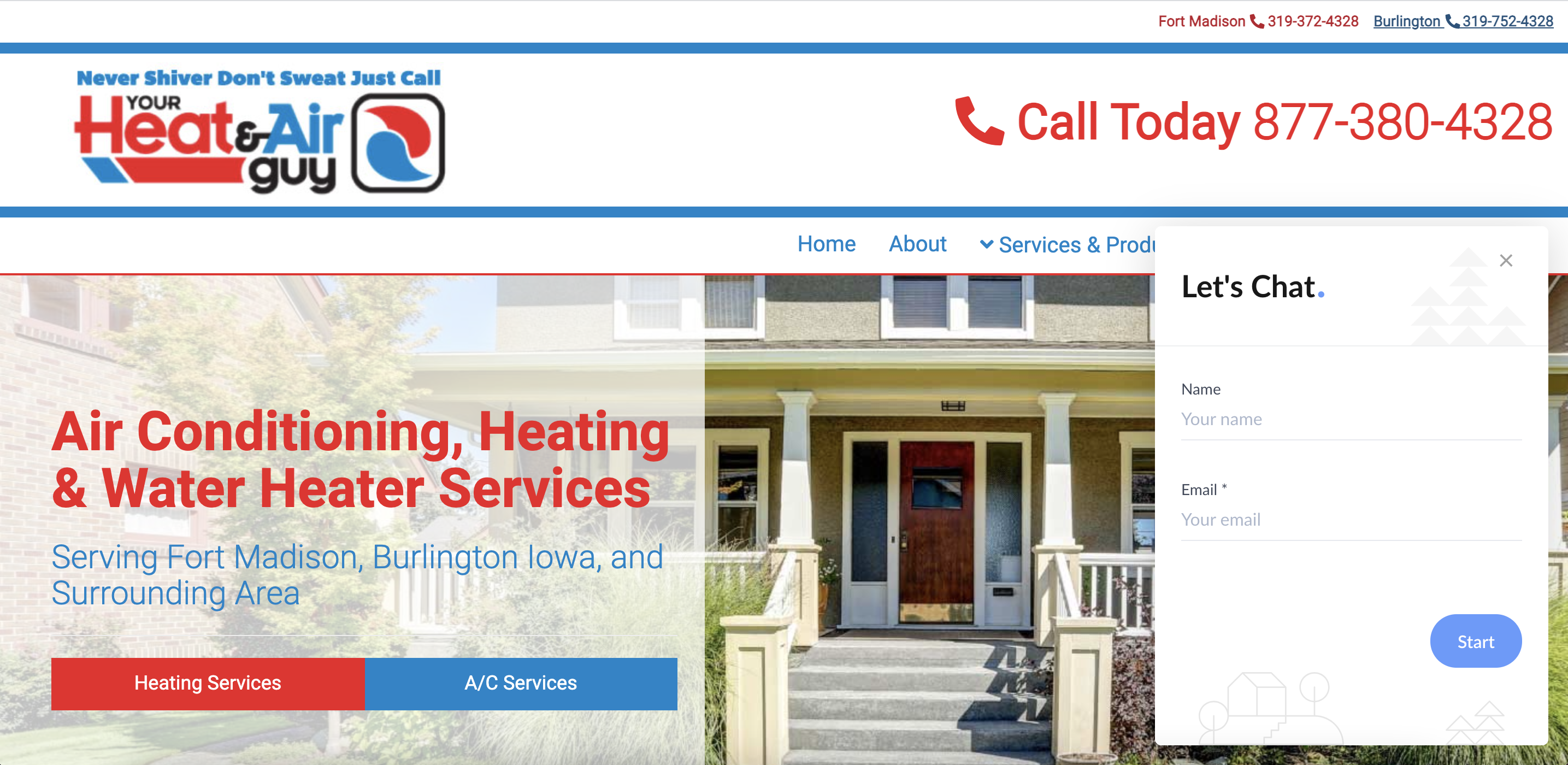 Celebrating awesome home services companies
This is us, clapping with joy for all of the sites above! 👏 🥳 🎉
We're incredibly proud that each is a customer of AnswerForce. By adding live chat, they are all pioneering in their space. After all, the vast majority of service industry websites simply don't use live chat.
Why is that? Why are some businesses leaving opportunity on the table? 🤔
Perhaps it may seem like web chat will take up too much time. Remember, however, that you can easily partner with someone to help support this service. You may be surprised to discover that the cost of staffing live chat 24/7, with a team of virtual receptionists, can be significantly less than the cost of employing a full-time receptionist.
To help put this into context, it may be worth reviewing the value of one sale or job completed by your business.
Is it a few hundred dollars, a few thousand?
Consider this… one of those sales or jobs could easily pay for a month or more of live chat coverage.
Staying flexible about your live chat model
If you decide to have a live person or team help answer your chats, night and day, then you may want to consider partnering with an overflow or after hours live answering service. It's a great way to know someone's always available to actively support visitors!
Or, if cost is a concern, you can also consider offering a basic chat widget, even if it's not always staffed. In doing so, you give your visitors an easy chance to leave their details for you to follow up later.
At AnswerForce, we can support all of these options.
Daryn Patterson, owner of ONE Guard System, says: "AnswerForce has provided our company a way to easily connect with potential customers, in a manner that is hassle-free for our customers."
So, there's just one thing left to say, and that is… Way to go, small businesses! By offering live chat and live answering, you make it easy for people to reach you, whenever they need to. Thank you for showing how much you care. 🙌